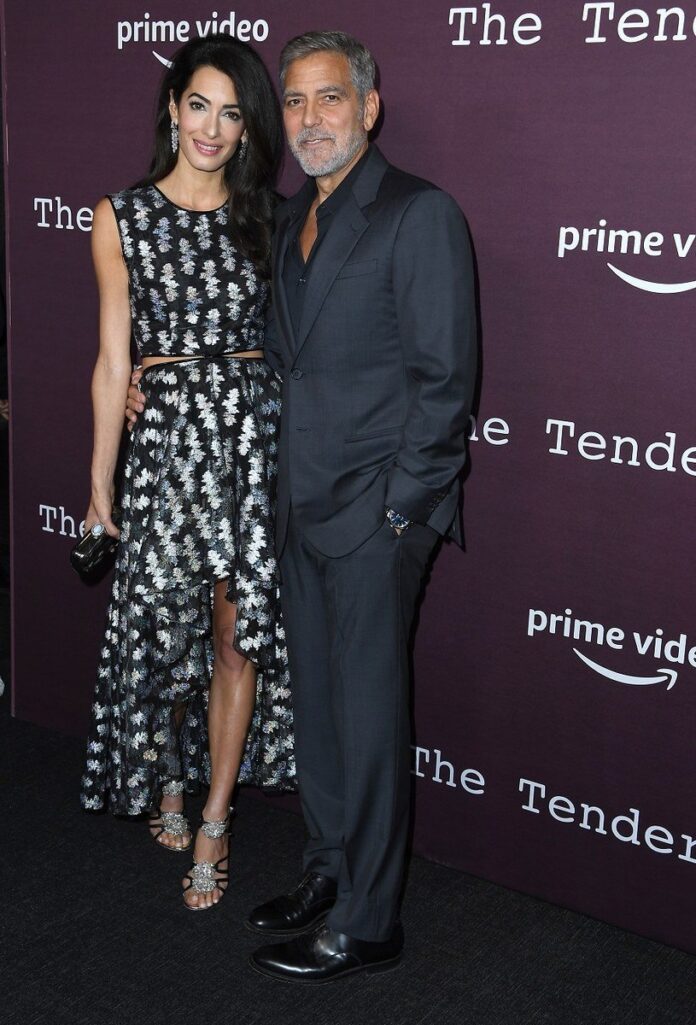 DUBAI: Amal Clooney made a rare red carpet appearance with her husband George Clooney this week as she attended the Los Angeles premiere of George's latest film, "The Tender Bar," an American coming-of-age drama directed by the Hollywood actor. For the occasion, the Lebanese human rights lawyer looked chic in a black, metallic-embellished dress with cutouts at the waist. She paired the mid-length dress with strappy silver sandals and chandelier earrings from the Reflection de Cartier collection.
For his part, the director cut a dapper figure in an all-black suit from Giorgio Armani.
It was the couple's first time together at a public event since May 2019's London premier of "Catch-22," the miniseries adaptation of Joseph Heller's seminal novel that George produced and directed.
The Lebanese human rights lawyer wore a black and silver cutout gown for the occasion. Getty Images
 Still, it might be a while before we see the couple make another red carpet appearance together. Both have busy schedules in 2021, with Amal recently appointed as special advisor on the Darfur region of Sudan at the International Criminal Court in The Hague. Meanwhile, George is reuniting with Julia Roberts for the upcoming rom-com "Ticket to Paradise."
Additionally, the duo are parents to two young children.
On the red carpet, George spoke to Entertainment Tonight about the couple's life quarantining with their four-year-old twins Ella and Alexander. "It was fine," he said. "You just feel so bad for the world and all of that, you know? But our kids are four and they were two-and-a-half when it started so you know, they weren't missing out on much out in the world. So, you know, I didn't have to teach them trigonometry at home," he added.
"He's mainly teaching pranks for the time being," Amal interjected, prompting George to respond: "Well, I think those can really pay off over time."
Amal also opened up about how the two handle their busy careers and parenthood. "It's probably like many families where both parents work," she said. "I'm lucky because I have a very supportive partner. And we do move around a lot, but we manage it and I feel very lucky."