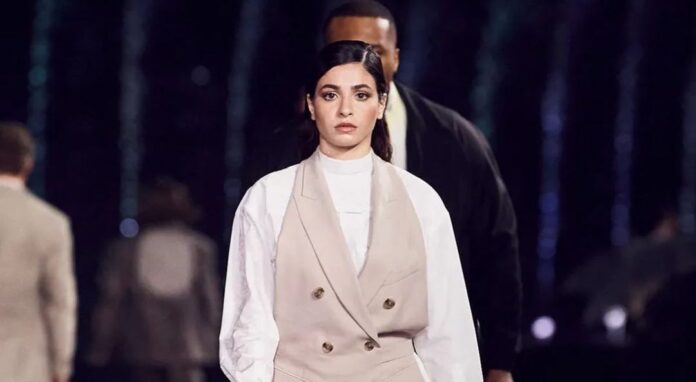 DUBAI: Syrian Olympic swimmer Yusra Mardini has officially added another title to her growing repertoire of accomplishments after becoming a model.
The athlete, whose story of fleeing her homeland alongside her sister Sarah was made into a BAFTA-nominated film by Netflix called "The Swimmers," walked the runway in Miami this week for German fashion label Hugo Boss.
"Thank you for including me in this phenomenal experience," Mardini wrote on Instagram sharing a picture of herself on the catwalk.
Mardini, who is based in Germany, wore a white shirt dress with a beige vest, beige calf-length stockings and brown heels from the brand's Spring/Summer 2023 collection.
She walked the show, which was inspired by Miami, alongside A-list stars Naomi Campbell, Pamela Anderson, Law Roach, US Palestinian producer DJ Khaled, Precious Lee and Ezra Frech.
This is Mardini's second runway appearance, after she appeared for fashion brand Casablanca's Autumn/Winter 2023 show in January.
She also starred in Boss's digital campaign that month, which featured a long list of Arab and international stars, including DJ Khaled, Dutch Palestinian model Gigi Hadid, Demi Lovato, Paris Hilton, Columbian singer Maluma, actress Bella Thorne and many more.
In the advert, Mardini shared a photo collage featuring two images — one from her childhood and one present-day photo, while wearing Boss sweatshirts.
In a recent interview with Arab News, Mardini said she is turning her focus to her non-profit work, as well as other endeavors.
Having competed in the 2016 and 2020 Summer Olympics as part of the Refugee Olympic Athletes Team, Mardini is aiming to develop a foundation to facilitate education and sports opportunities for refugees. She is also starting her own journey as a filmmaker.
"I am also studying in a university here in California called University of Southern California and I am studying film and production," she said. "I am doing a lot of activities in the fashion domain and I have a non-profit organization, and I am doing something with the UNHCR and I am also studying, so generally I am happy with my life."