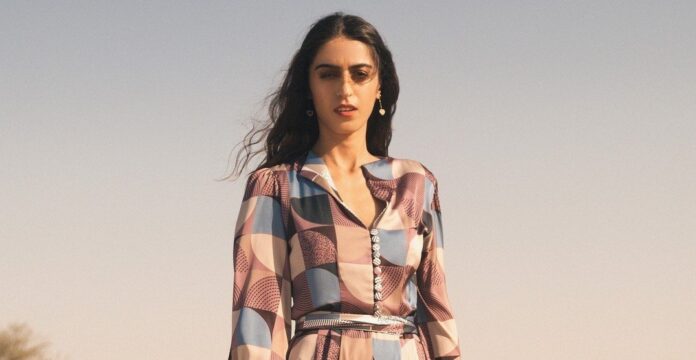 DUBAI: UAE-based designer Lina Mane's passion for fashion led her to challenge herself by joining an international competition with online fashion retailer Shein.
Hundreds of designers from around the world joined the SHEIN X program, which challenges designers to compete for a chance to win $100,000 and be featured in the retailer's Fall/Winter 2021 fashion showcase. 
Featuring a star-studded panel of judges including Khloé Kardashian, Law Roach, Christian Siriano, Jenna Lyons and Laurel Pantin, the SHEIN X 100K Challenge is a program that supports young, diverse creatives and designers. For the competition, participants go through the process of designing, from the inception phase to sampling, production, and distribution.
"I was really excited to be part of this competition because it allows me to share my knowledge and my designs with others," Mane, who was among 30 designers shortlisted for the competition, said in an interview with Arab News. 
The designer, who is of Indian descent, launched her label L'Mane in 2015. 
With design experience in diverse fashion capitals like Mumbai and Milan, Mane said she tries to adapt her work to both the global market needs and her design interests. 
Although the designer did not win the competition, she said that SHEIN X taught her a lot. 
"The aesthetics of L'Mane is believing in slow fashion," she said. "When Shein approached me, I found it to be a good experience to understand the fast fashion industry."
The theme of the competition was "be bold," said Mane. Mane and the contestants had a few weeks to bring their designs to life.
"I learned how to manage things in very little time," she said. Mane created the designs, printed the fabrics, executed the designs, did a photoshoot and delivered the pieces in the span of three-and-a-half weeks.
She designed a pair of pants, a shirt, a kimono and two dresses.
"It was tough, but it was a really great experience," she explained. "Fashion is not just clothes, it has a lot of meaning behind it and a lot of hard work." 
The winner, announced earlier this week, is the Canadian founder Sasha Ruddock of the brand Flaws of Couture. The brand's collection was showcased during the live broadcast of Shein Fall/Winter 2021 fashion showcase on Sept. 27. 
Mane is currently preparing for her Spring/Summer 2022 collection, which will launch in October. 
Her designs have so far been worn by stars from around the world, including Bollywood superstar Kareena Kapoor and Syrian singer Farah Yousef.