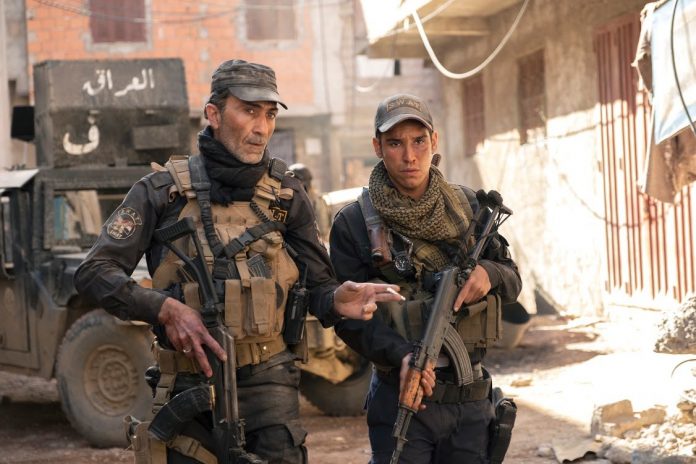 LONDON: There are few things Hollywood loves more than an 'against-the-odds' war thriller that sets a small group of soldiers against a dastardly foe – look no further than "Lone Survivor," "Black Hawk Down" and their ilk. 
Streaming giant Netflix is no stranger to this particular bandwagon either, with "Extraction" (starring Chris Hemsworth and released earlier this year) dividing the critics thanks to a not-so-subtle white-savior complex. The Russo Brothers (who produced and wrote "Extraction") are in the producer's chair again for "Mosul" — but this is a very different movie.
Based on true events and set in 2017, the movie follows an Iraqi SWAT team in the titular city as they undertake their final, mysterious mission against Daesh. Along the way, the squad rescues a rookie cop — a bright-eyed young man who is swiftly inducted into their ranks and brought face-to-face with the brutalities of the war against Daesh. The rookie, Kawa (played by Adam Bessa), is taken under the wing of grizzled veteran Major Jasem (Suhail Dabbach), and quickly learns that these elite soldiers, each with their own tragedy-brushed backstory, are outnumbered and outgunned, even as Daesh fighters flee the city.
What makes "Mosul" remarkable is that, unlike "Extraction," the characters, actors and language are very much of their place. There's no parachuted-in American lead actor, no convoluted reason for English speech and no hand-holding with regards to the wider context — you get some explanatory text at the start of the movie and that's it. After that, "Mosul" moves from one explosive set piece to the next, with any exposition happening in the snatched moments of rest in between.
It's a heady mix, and director Matthew Michael Carnahan keeps the movie short, sharp and to the point. As a result, there's little time to get to know the characters, or take them at anything other than their word as their mission and motives play out. There is some clunky interplay for narrative advancement that Carnahan probably couldn't do without, but you're never far from another brutal firefight — and "Mosul" is all the better for it.