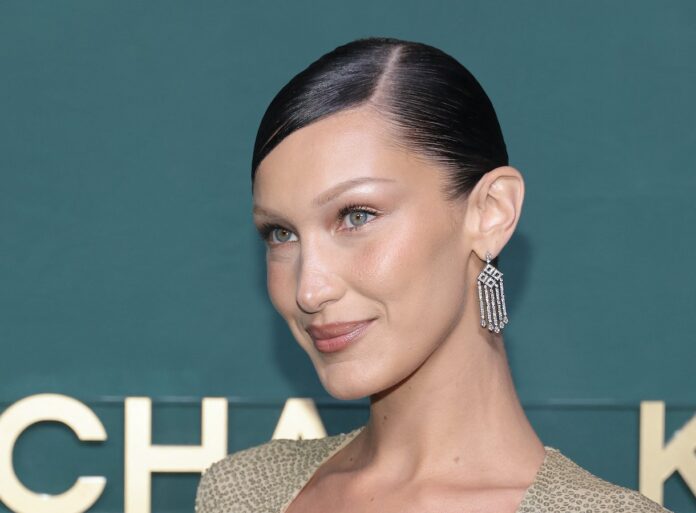 DUBAI: French luxury label Balenciaga and German sportswear giant Adidas have returned with another collaborative collection this week, and who better to front the campaign than Dutch Palestinian model Bella Hadid.
This is the brands' second partnership together after the first launch debuted on the runway at the New York Stock Exchange.
For this campaign, the 26-year-old catwalk star posed wearing oversized football T-shirts reminiscent of Manchester United, a red tracksuit, long tube socks and the classic three stripes wide-leg track pants.
The images were shot at an office with a Manhattan view.
The adverts also starred French actress Isabelle Huppert, South Korean model Han So Hee, US boxer Jermell Charlo, model Khadim Sock and more.
Besides the oversized jumpers and pants, the stars wore voluminous puffers and hourglass handbags.
The collection is now available at exclusive pop-ups in Dubai, Bangkok, Los Angeles, Osaka, Seoul, Tokyo and Toronto as well as in-store at select Adidas and Balenciaga locations globally.
Hadid is no stranger to Balenciaga.
In June, Balenciaga enlisted the catwalk star for its fall 2022 campaign lensed by British artist Nadia Lee Cohen.
Hadid starred in the first entry in the multi-part campaign series alongside a diverse cast including French musician Aya Nakamura and models Kit Butler, Zuo Chen, Abdou Diop, Inti Wang and Lina Zhang.
The brand's Nineties-inspired fall 2022 campaign was a continuation of the short film, "The Lost Tape," released in December 2021 just ahead of fashion week.
Hadid also made a runway appearance for the fashion house in July when she wore a green minidress with a train of structured floor-length fabric.
She also walked the brand's emotional fall 2022 show back in March.
The show addressed addressed the war in Ukraine and Demna's own personal experience as a refugee from his native country of Georgia.
Balenciaga is among a wide spectrum of fashion brands to ask Hadid to front one of its campaigns.
The California-raised model has a number of high-profile advertorials under her belt, including for Swarovski, Burberry, Michael Kors and Versace.