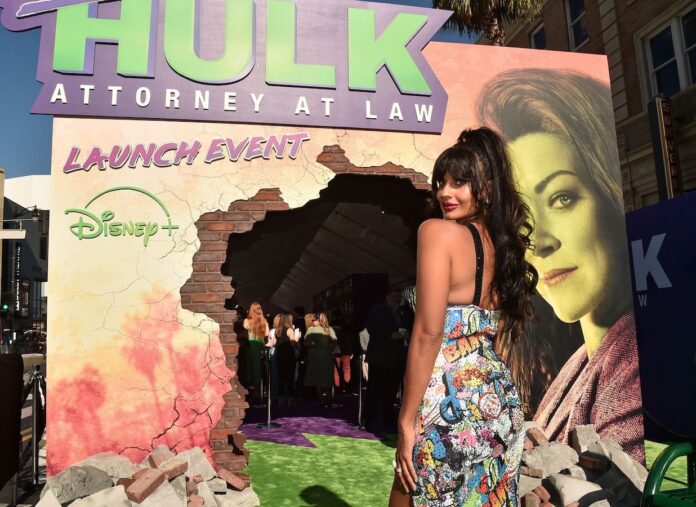 LOS ANGELES: "She-Hulk: Attorney at Law" is breaking out of the established Marvel pattern, trading superhero action with jokes for a full-fledged sitcom.
The show centers on Jennifer Walters (played by Canadian actress Tatiana Maslany), cousin of the Hulk, as she defends people not as a hero, but as a lawyer.
British Pakistani actress Jameela Jamil plays supervillain Titania, whom she herself dubbed "the most annoying MCU character ever."
In an interview with Arab News at the event's premiere last week, the actress said: "It's just such a smart, funny show and it's already getting such great reviews and people seem to love it and they seem to get it. And that's all we could have ever hoped for."
Jamil — who shot to fame for her fan-favorite role as Tahani on "The Good Place" — said that she has not watched the show yet.
"I'm not in these first episodes, so I literally have no idea what happens," she said. "I can't wait to be able to experience it with everyone else."
The series takes a comedic look at mundane life in the superhero world, — as She-Hulk avoids fighting villains to focus on her career and love life — and gives typically serious characters like Daredevil or the Abomination a chance to show their lighter side.
"We got some very well-known and lovable MCU stars, one of them being Mark Ruffalo and maybe a little Benedict Wong," said co-executive producer Wendy Jacobson. "And they're going to get a lot of laughs."
The show also stars US actor Josh Segarra. The 36-year-old star plays the role of Augustus Pugliese, known as "Pug," who works alongside Walters.
"Think about all the opportunities we have to see who needs legal help in this universe," Segarra told Arab News. "If you destroy an entire city, you might need a little legal help. And that's where you call us, you know?"