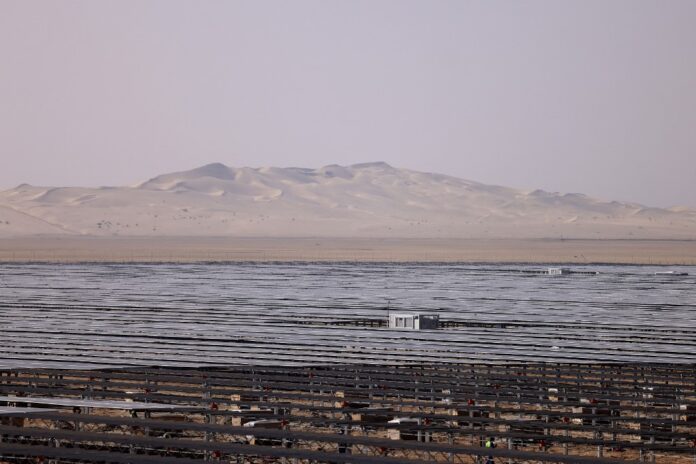 NEW DELHI: India said on Sunday that its new trilateral framework with the UAE and France was significant, adding that the initiative can improve synergy among the countries, as they agreed to work together and undertake energy projects, fight climate change and protect biodiversity.
India, the UAE and France agreed through a phone call on Saturday to establish a trilateral initiative to boost cooperation, including on nuclear and solar power, as well as sustainable projects, and to align their policies with the objectives of the Paris Agreement, the countries said in a joint statement.
They will organize trilateral events in the framework of the Indian presidency of the Group of 20 and the UAE's hosting of COP28 climate negotiations this year.
The trilateral initiative was "very significant," said Indian Ambassador to the UAE Sunjay Sudhir.
"India has very strong relations with the UAE as well as France," he told Arab News.
"There are numerous synergies that can be brought out even better in a trilateral framework. That is the whole idea behind it."
The initiative will also make use of existing programs, such as the Mangrove Alliance for Climate led by the UAE and the Indo-Pacific Parks Partnership led by India and France.
The move follows a rising trend of countries forming multilateral groupings, and France's participation appears substantial, former Indian Ambassador to the UAE Navdeep Suri told Arab News.
"When I look at the emerging diplomatic architecture, what you are seeing is the rise of multilateral groupings, such as the Indo-Pacific partnership for example…then this trilateral framework with France and UAE," said Suri, who is also a distinguished fellow at the Delhi-based think tank Observer Research Foundation.
"I think this trilateral initiative is very important. France will bring a lot of weight to it, and new areas of collaboration will emerge, including defense."
India, the UAE and France also agreed to boost defense cooperation, with plans to undertake efforts "to further promote compatibility, and joint development and co-production," their joint statement read.
"These are three countries that have special relationships with each other," Suri added.
"What the trilateral initiative does is that it allows like-minded countries to get together and promote shared interests in areas that they agree upon."
This multilateral framework benefits each country, said Prof. Sujata Ashwarya of the Jamia Millia Islamia University in New Delhi, as it comes at a time in which India holds the G20 presidency and the UAE hosts the COP28, while France seeks to boost its role in the region.
"France is testing the waters for greater influence and intervention in this region as the center of political gravity shifts to Asia with the rise of a powerful China," Ashwarya told Arab News.
"France's collaboration with India and the UAE is an attempt to soft-land its presence," she said.
But the initiative is also a vehicle to maintain momentum in the fight against climate change, which Ashwarya said is "the most pressing issue of our time."
"Such frameworks allow Indian leaders to highlight India's commitment to climate change mitigation during India's presidency of the G20 and portray the country positively."