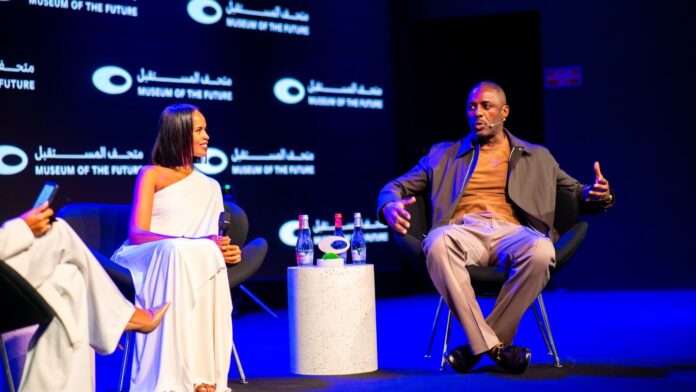 DUBAI: Hollywood star Idris Elba and his wife, model and actor Sabrina Elba, took part in the Museum of the Future's Dubai Future Talks series, where they spoke about their inspiration, advocacy, the power of narrative and how culture can be a springboard to global issues.
The Dubai Future Talks series offers the chance for change-makers to weigh in on global issues and share their knowledge and experiences with the world. The Elbas, who won Time100 Gala and Impact Awards earlier this week, spoke to a packed auditorium.
They began the dialogue by talking about their upbringing and how it pushed them toward advocating for those without voices.
"I come from a humble background. My parents moved to England from Africa in the Seventies and didn't have much. I was an only child . . . (my) father really had the passion for making sure those who were unheard (were heard)," he said.
The Elbas won Time100 Gala and Impact Awards earlier this week. (Supplied)
"I think that's why I do what I do. And, the second thing is, as an actor or entertainer, we are showered with a lot of stuff, almost grossly at times, and if you come where I come from, you always feel like an imposter. So for me, it drives me to speak for those who don't have as much as me . . . It just feels natural to me," added "The Mountain Between Us" star.
The power couple, who are Goodwill Ambassadors for the UN's International Fund for Agricultural Development, went on to explain the power of narrative.
"Storytelling is part of our very primitive instincts. We have children — we want to teach them something they may not understand, we tell them a story, we break it down, we give them a sense of what it is to own a narrative. And that is no different from how . . . we communicate — we have so many mediums of storytelling — social media — it's great but it's also a way to promote misinformation and good information," said "Beast" actor Elba. "So that's why I think it's important for us right now to understand the power of the narrative."
"It's about owning the narrative so you can showcase your narrative," Sabrina said.