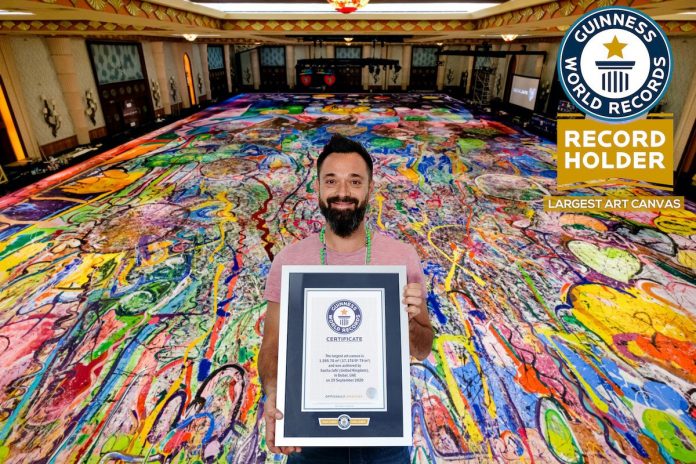 DUBAI: Contemporary British painter Sacha Jafri has officially set the Guinness World Record title for "The Largest Art Canvas" in the world, with his painting "The Journey of Humanity."
Scaling over 17,000 square feet, the Dubai-based artist has been working on the painting since March at Dubai's 5-star Atlantis The Palm.
It took him seven months, 20 hours a day, to complete it. He used 1,065 paint brushes and a whopping 6,300 liters of paint to create the artwork.
In November, "The Journey of Humanity" was cut into 70 pieces and auctioned at the UAE resort in a bid to raise more than $30 million to support children and youth around the globe worst-hit by the virus outbreak.
"It seems that we've become a little self-important as humans, and now there is an opportunity to unlearn everything we, as adults, thought we knew, and re-learn a new understanding of humanity, humility, empathy, and ultimately our re-engaged path ahead, through the souls of our children," Jafri previously told Arab News.
Read Arab News' full interview with Jafri here. 
The project has had a global reach of more than 2.5 billion individuals worldwide. 
"The Largest Art Canvas is a record that we accepted by Sacha" said Shaddy Gaad, the senior marketing manager of the MENA region at Guinness World Records, in a released statement. "We are confident that the humanitarian cause behind the achievement is one that will inspire people. We congratulate him and those involved in this extraordinary achievement and we are happy to declare them as Officially Amazing."
The charity partners in the project include UNICEF, UNESCO, the Global Gift Foundation, and Dubai Cares, alongside the UAE government.