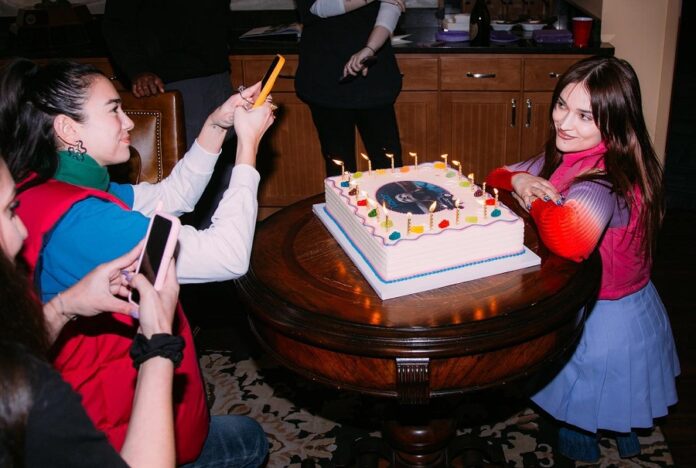 DUBAI: Albanian-British pop star Dua Lipa has been busy jet-setting across North America alongside her opening act, French-Algerian singer Lolo Zouai, as part of Lipa's long-awaited "Future Nostalgia" tour.
On Saturday, the "Levitating" hitmaker took a break from the stage to throw a surprise birthday party for Zouai, who turned 27 on March 5.
The birthday girl took to social media to share captures from the festivities with her 280,000 Instagram followers, posting a carousel of videos and photos alongside the caption: "BEST SURPRISE BDAY PARTY EVER! I love you guys so much."
A closeup of her personalized cake. Instagram
The newly minted 27-year-old shared a video of herself blowing out a personalized cake decorated with gummy bears and an edible photo of herself printed in the center.
She also shared a sweet photograph of her and Lipa hugging and posted an Instagram Story of her dressing room, which was decorated with gold party strings and a "Birthday girl" ribbon.
In the photos, the "High Highs to Low Lows" singer opted for a hot pink puffer vest, a red and purple ombre sweater and a lavender pleated mini skirt for the occasion.
Dua Lipa urged her fans to wish Lolo Zouai a happy birthday. Instagram
Lipa marked Zouai's birthday by sharing two photos of the Brooklyn-based singer on her Instagram Stories.
"Everyone wish Lolo Zouai a happy, happy birthday!" she captioned one of the pictures, to which Zouai replied: "Best way to spend my birthday on tour with this angel."
Lipa posted another photo of Zouai and her custom cake alongside the caption "Bday princess," prompting the part-Algerian singer to repost it and reply "Best surprise party ever."
And it seems that Zouai's popularity knows no bounds: Her celebrity friends showered her with (virtual) love, while Saint Laurent creative director Anthony Vacarello sent her flowers and others shared great throwback photos of the star.
The singer, who was born Laureen Zouai in Paris to an Algerian father and a French mother, concluded her special day by hitting the stage at Buffalo's KeyBank Center.