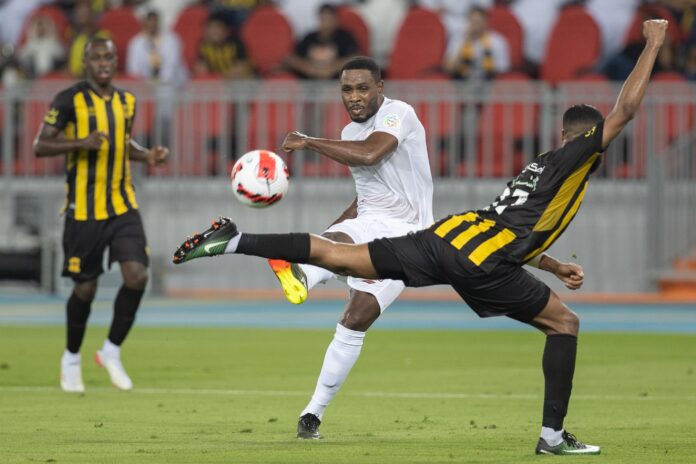 The Saudi Professional League resumed at the weekend and the latest round of games could turn out to be one of the most significant of the 2021-22 season. Here are five things we learned from the action as we approach the campaign's one-third mark.
1. The title race is shaping up to be a classic
The focus of late has been on the national team and the AFC Champions League, but there is plenty going on for followers of the SPL. The title race is shaping up to be something special. It has all the elements of a classic. There is a surprise leader in the shape of Damac, who have just overtaken Al-Ittihad at the top.
There are other elements too. The two Riyadh giants, Al-Hilal and Al-Nassr, are a few places back but have games in hand due to their AFC Champions League commitments and that adds an extra dimension. If they win those, then both could potentially go first, but a fixture pile-up may change everything. Al-Shabab have come from nowhere to challenge and on Friday defeated Al-Ittihad, who will now be keen to get back to winning ways.
There are currently five or six teams in the running. Long may that last.
2. Al-Ahli are doing Saudi Arabian football a service
The record books will show Al-Ahli won 2-1 at Al-Tai this matchday, but that does not tell the full story. In the middle of October, the talk was not about if coach Besnik Hasi was going to be fired, but when he would go and who should replace him. That was because the Jeddah giants had failed to win any of their first seven games and were in the bottom three.
The public votes of confidence kept coming and the expected dismissal did not. Now Al-Ahli have won their last two games and are suddenly looking up, not down. This does not mean that the pressure is off, but it does mean that another good result against Al-Hilal this week would really give the boss some breathing space.
Whatever happens, fans across the country (perhaps except for city rivals Al-Ittihad) should be cheering Al-Ahli on. For so long, the common reaction in the boardroom to a run of poor results has been a dismissal. We have seen this already this season. It would be really refreshing, however, if there could be an example of patience bringing success in Saudi Arabia. It would be great if a club was rewarded for not pulling the trigger.
3. Odion Ighalo is on fire
Al-Shabab's celebrations after their fine 2-0 win over Al-Ittihad must have felt particularly sweet as it doesn't seem long since they were near the bottom of the table and there was talk of coach Pericles Chamusca's time in Riyadh being very short indeed. Yet here are last season's runners-up right back in the title race, just three points behind first place.
When you have a striker in such a rich vein of form as Odion Ighalo, then you are always going to have a chance to win games, especially when there is a little more solidity and organization at the back. Compared to earlier this season, Al-Shabab have become harder to beat, while they have a sharp shooter in attack whose brace took him to the top of the goalscoring charts with eight.
Defeating league leaders Al-Ittihad was quite the statement. Ighalo got both and they were simple but classic. The first was just a well-timed run to side-foot home from close range. The second was a fine give-and-go and another side-foot finish from close range to seal the game.
4. Damac need to wrap Zelaya in cotton wool
For the first time ever, Damac are at the top of the table thanks to a 1-0 win over Al-Hazem. This is no fluke. Since Croatian coach Kresimir Rezic took over at the start of 2021, they have lost just once in 18 games and have won 10.
That is an impressive run and the latest victory put the team in uncharted territory. Defensively they are solid and only one team has conceded fewer goals.
And then there is Emilio Zelaya in attack. The 34-year-old has scored seven goals so far this season and, crucially, that magnificent haul has come in seven separate games.
The problem may come if the Argentine gets injured or fatigued, as Damac don't have the strength in depth that many of the others at the top of the table can boast. But with a little luck and more solid performances from Algerian goalkeeper Moustapha Zeghba, then there is no reason why Damac can't finish much higher than last season's 11th.
5. Al-Hilal need to tighten up
Champions Al-Hilal defeated Al-Raed 3-2 on Saturday, but it was a very tight game indeed. For the third time in seven matches this season, they needed an injury-time winner and, while the team's commitment to keep going until the end is to be commended, the fact that the Riyadh giants have conceded seven goals in their last four games will concern coach Leonardo Jardim.
Al-Hilal were cruising at 2-0 with six minutes remaining, but then conceded two goals in quick succession. The first was a beauty from outside the area and the second a well-worked close-range effort, but on both occasions too much space and time were given.
If they are to defend their title in what is shaping up to be a competitive season, Al-Hilal's defense needs to stay switched on for the full 90 minutes, as the attack will not always be able to turn things around.