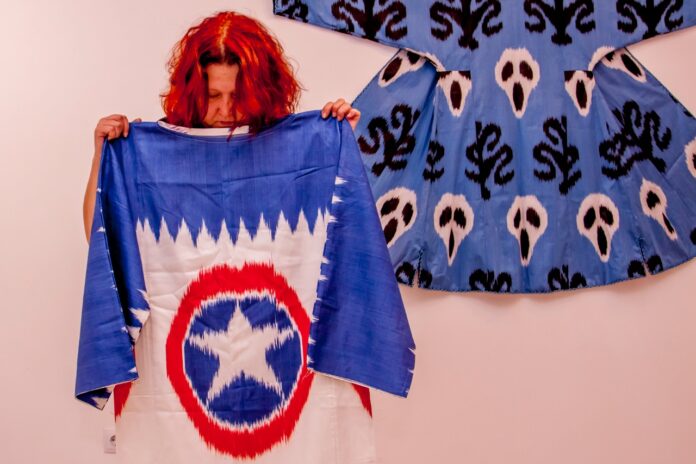 DUBAI: Three Central Asian artists reflect on issues of globalization and identity through the intersection of ancient mythologies, regional rituals and modern symbols at a new exhibition, "Totems of Central Asia," at the Foundry in Downtown Dubai.
Traditional ikat fabric, nomadic games on horseback and a 15th-century astronomer from Samarkand take center stage in this exhibition of works (including NFTs) by Almagul Menlibayeva and Said Atabekov from Kazakhstan and Dilyara Kaipova from Uzbekistan. The show runs until June 11.
While Kaipova takes traditional Uzbek ikat textiles and turns them into contemporary art objects, Atabekov uses photography to depict Kokpar — an ancient game from the legendary steppes — with players sporting new-age logos on their jackets. Menlibayeva's prints on silk take inspiration from the famous scientist and astronomer Ulugh Beg as a powerful metaphor to bring attention to environment challenges in her country.
From the series Steppenwolves (ADIDAS), Said Atabekov. (Supplied)
"Central Asia is a unique geopolitical and cultural region, heir to ancient civilizations and the fabled Silk Road. It was mainly excluded from the international context during much of the 20th century. Through this exhibition, I hope visitors will get a better glimpse of this rich region. (The) artists show how we are all connected through globalization and migration," curator Natalya Andakulova, founder of Dubai's Andakulova Gallery, tells Arab News.
The title of the exhibition refers to the concept of the totem as a spiritual being, with a life of its own, considered sacred in ancient societies.
"In 'Totems of Central Asia,' we are showcasing issues of the preservation of national traditions while adapting to the new world," says Andakulova.
"Scream Red" by Dilyara. (Supplied)
Atabekov's "Wolves of the Steppes" series of mostly black-and-white images (only the logo-emblazoned jackets of the Kokpar riders are in color), for instance, shows how globalization has infiltrated even the nomadic way of life.
Kokpar is a traditional sport played by nomads in Central Asia as a sacred ritual. Horseback riders fight for a goat carcass across the undulating green steppes in scenes that can resemble a battle more than a game.
"These are not staged photographs. Here, the players wear what they have and what they like. Through this game I observe what is happening around us — competition, high cost, military conflicts. In this space, we see how every speck of dust wants to find a place under the sun," the 57-year-old photographer says.
Capsula Ulugh Beg, Almagul Menlibayeva. (Supplied)
Atabekov lives in Shymkent, Kazakhstan. His photographs have won international recognition for their blend of ethnographic signs, recollections of the Russian avant-garde, and post-Soviet globalism.
Visual artist Menlibayeva's series of prints on silk are made up of stills taken from a video installation she created for the Lahore Biennial, 2020. They are abstract works in which the artist refers to the Uzbek astronomer, mathematician and ruler Ulugh Beg, who built one of the finest space observatories in Samarkand.
"I wanted to show how we perceive space now, at a time when there is increasing space debris," she says. "It was also an attempt to present Central Asia through my eyes in a global context looking at science and technology from a local and historical (point of view)."
From the series Steppenwolf (FERRARI), 2014. (Supplied)
She expands on these themes with her photography prints, which focus on ecological blunders caused by economic development, focusing especially on the Aral Sea in Central Asia, the site of one of the worst environmental disasters in history. Once the fourth-largest lake in the world, it had completely dried up by 2014, although ongoing efforts in Kazakhstan have revived it somewhat since.
Menlibayeva's photographs show a derelict part of the Transoxiana region. Centaur-like female figures appear as a mirage in the barren desert. It is an attempt, she says, to alternate between dream and reality, and to show her homeland finding its place between the past and the present.
Born in Tashkent, Kaipova, 55, has spent much of her working life combining ikat textiles with contemporary motifs in an attempt to preserve Uzbek culture.
In her handcrafted traditional ikat fabric designs, well-known brand logos and pop-culture icons represent modern totems. "Ghost Face," the killer from Hollywood's 'Scream' franchise, features on one of her robes. Other creations feature Mickey Mouse and Darth Vader, mixing elements from the East and the West, symbolizing elitism and mass media.
"I create the sketches and craftsmen from the Ferghana valley, in the city of Margilan, Uzbekistan, make the handmade robes," Kaipova says. "By including modern, recognizable signs and logos, I have tried to create a different view of the world through the optics of today, the view of a person living here and now. I always hope the audience is interested in the clash of archaic and modern."