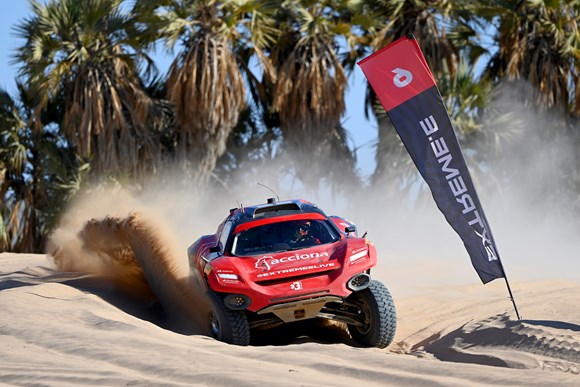 NEOM: ACCIONA SAINZ XE Team. What's more, with the Round 2 podium featuring the same top three teams from Round 1, they will be the ones to watch as the series heads into the next X Prix weekend in Scotland on May 13-14.
Laia Sanz said: "I am very happy, both for myself and the team. We clinched our maiden win in Extreme E. I want to thank Mattias for giving me the car with such a good advantage over the rest of the field. I did a good stint and was able to keep the distance, so I am more than satisfied.
"This victory is for all the people on the team because they truly deserve it for all the work we have done to be in this position, especially for Carlos Sainz," she added.
"It was an honor that he called me to ask if I wanted to race with him in Extreme E and I am trying to pay back his trust with all my motivation and my willingness to improve even further.
"I learned so much with him as my teammate and it is fantastic that he is with us here, helping us and giving advice. Today we can feel proud, but we must keep up the good work."
Team-mate Ekstrom said: "We had designed a strategy for the Grand Final and I executed it as well as I could. I am really happy that it turned out to be fruitful. It is always easier to race in front and have a clear view in front than being behind another car and having to deal with all the dust. I really enjoyed every corner. Laia drove very well and managed the gap perfectly. It is a good victory for the team."
The five teams that didn't qualify for the final fought it out in the Redemption Race in pursuit of sixth to tenth place championship points.
Results:
Grand Final:
ACCIONA