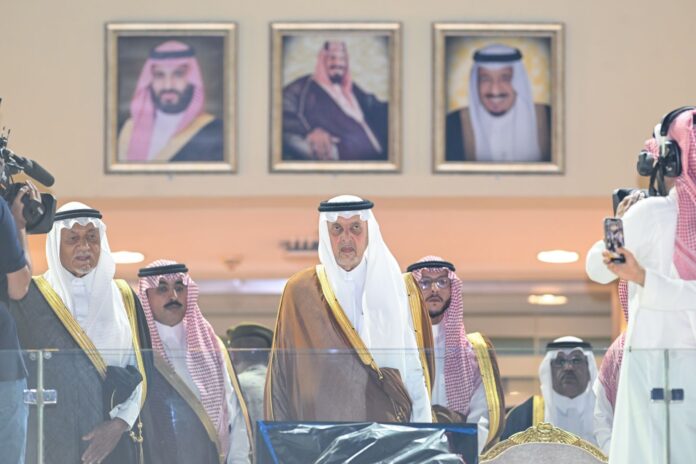 To the roar of Ta'if's King Khaled Racetrack crowd, the 2022 King Faisal Arabian Horses Cup was claimed on Saturday evening by Afsan Al-Khalediah for Prince Khaled bin Sultan bin Abdulaziz's Al-Khalediah Stables, finishing well ahead of contenders Modhishah and Malzaman.
Sired by Laith Al-Khalediah and ridden by Abdullah Al-Awfi, gray colt Afsan Al-Khalediah completed the 1,600-meter race in a final time of 1:55.38, besting Modhishah by 15.75 lengths, with Malzaman another 0.75 lengths back in third.
Having won the King Faisal Cup in 2021 with Tilal Al-Khalediah, Al-Khalediah Stables hold a perfect record in this $266,000 race. And it was a glorious day for Al-Awfi, who earlier steered Qaswarat Al-Khalediah to victory in the Prince Abdullah Al-Faisal Cup, also with a $266,000 bounty.
"I was wary of the filly Katebat Al-Khalediah, but as it turned out I knew I had won from 800 meters out," Al-Awfi said. "I've won three out of three on Asfan now; he's an excellent horse. I feel that Asfan could emulate Tilal Al-Khalediah, who was the winner of this race in 2021 and went on to also win the King Abdulaziz Cup for purebred Arabians."
The purebred Arabian race followed a number of other competitions throughout the day in addition to the Prince Abdullah Al-Faisal Cup, including the Fillies Open, won by Rooqa; the Ta'if Cup (fillies and colts) with Al-Kuweit in the lead; the Ta'if Cup (fillies), claimed by Aewaaly Najd; and the Okaz Cup, with Yahtarez taking the prize — a day of racing worth more than $1.2 million across the card.
"I extend my congratulations to Al-Awfi, trainer Saad Mutlaq and the Al-Khalediah Stables on their victory in the second renewal of the King Faisal Cup," Jockey Club of Saudi Arabia Chairman Prince Bandar bin Khaled Al-Faisal told Arab News. "This is a race that will continue to grow in stature, and the names on this trophy will become part of Saudi racing history.
"As an internationally listed contest, the King Faisal Cup has global importance for purebred Arabian racing. Arabian racing horses represent not only a key area of Saudi Arabian heritage but as foundation sires, Arabians have also played a considerable role in the international evolution of thoroughbred racing."
Arabian horses are distinguished from thoroughbreds by their smaller size, lighter bodies and thicker skin, protecting them from the scorching conditions of the region.
The King Faisal Cup is a marquee occasion of the Jockey Club of Saudi Arabia's expanded summer season program at Ta'if's King Khaled Racetrack, running from June 16 to Oct. 8.
The 2022 Ta'if summer racing fixtures have been doubled to 48 from the previous year's 24, with a total of 384 races (up from 190). And the new National Day Cup meeting on Saturday, Sept. 22 will feature the Ta'if Derby, Ta'if Sprint Cup and Ta'if Arabian Horses Derby, all worth over $100,000.
Ta'if is situated at an altitude of almost 2,000 meters, with a cool and balmy climate perfect for racing during the summer months — unique in the Gulf and therefore a draw for horseracing professionals across the Kingdom as well as from neighboring countries such as the UAE and Bahrain.
As soon as the Ta'if racing season draws to a close, the Riyadh season will kick off with a succession of local and international races worth an average of $30,000 each and culminating with the $20 million Saudi Cup — the world's most valuable. Launched in 2020, the upcoming February 2023 event will be the fourth edition of the Saudi Cup.
"We have been racing in Ta'if for two decades but, like all racing in Saudi Arabia, the Ta'if season received a boost thanks to the international profile of the Saudi Cup," Salem Binmafhooz, JCSA's director of racing, told Arab News.
"Racing in Ta'if is unique in the region in being able to stage temperate summertime racing thanks to its location and altitude.
"We are in the process of finalizing infrastructure developments at King Khaled Racetrack that in coming seasons will allow us to accommodate horses from across the region, making Ta'if a hub for the other racing jurisdictions in the Gulf Cooperation Council."
JCSA CEO Eng. Marwan Al-Olayan added: "As an industry, Saudi Arabian racing is evolving at a fast pace and while we are making great progress on the international stage, as borne out by the success of the Saudi Cup, we are also keen to showcase the sport and its opportunities to our communities.
"Racing is one of the most popular forms of sporting entertainment around the world, and we hope to continue to attract greater numbers of fans to this industry during the coming seasons."